Sunny Days Ahead
Total Rewards Insights and Forecasts for 2018
Prepared By: The Wynford Group
The results included in this report are based on over 250 company submissions from across Canada between October and December. The focus of this summary report is on salary increases for 2018, as well as human capital management strategies currently in use in today's workplace.

We hope that you find these results useful as your company moves forward into 2018. The Wynford Group encourages you to contact us for more information on how we can work with your organization in addressing its totals rewards and compensation needs.

For more detailed insights and in-depth data, please see our annual Canadian Salary Surveys.
Please click here for more information.


Actual 2018 Salary Increases – Including Zero's
Average Regional 2018 Base Salary Increases:
| | |
| --- | --- |
| National | 2.42 |
| British Columbia | 2.60 |
| Alberta | 2.35 |
| Saskatchewan | 2.25 |
| Ontario | 2.50 |
| Atlantic | 2.30 |
Average 2018 Base Salary Increases by Industry:
| | | | |
| --- | --- | --- | --- |
| | Highest | | Lowest |
| Software Development | 3.05 | IT Service | 2.21 |
| Professional Services | 2.75 | Mining | 2.20 |
| Advanced Technology | 2.57 | Logistics/Transportation/Distribution | 2.10 |
| Manufacturing | 2.50 | Hospitality | 2.06 |
| Financial | 2.45 | EPC/EPCM | 1.92 |
Economic Outlook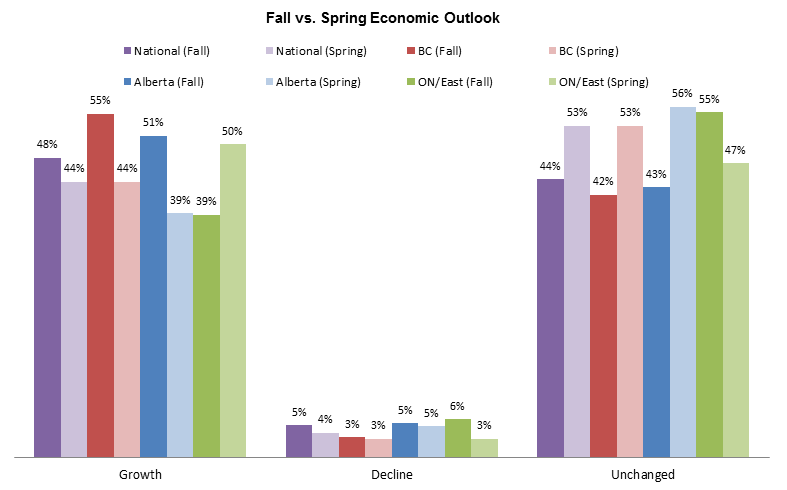 The graph above tells us several stories about how our participants view the Canadian economy in 2018:

After being hard hit in the past few years of economic recession, the majority of Alberta participants have returned to a positive outlook of the economy for 2018. 51% of organizations reporting from Alberta believe they will experience economic growth in the year to come, representing a significant increase of over 10% since the spring.


Similar to the increase seen in Alberta, participants in British Columbia continue to believe in positive economic growth for the upcoming year at the highest rate of 55%.


Organizations reporting from Ontario have lowered their expectations for economic growth in the months to come. However, as there has been a significant increase in those expecting "no change" for 2018, we believe that sustained economic growth is likely for Ontario.


Human Capital Practices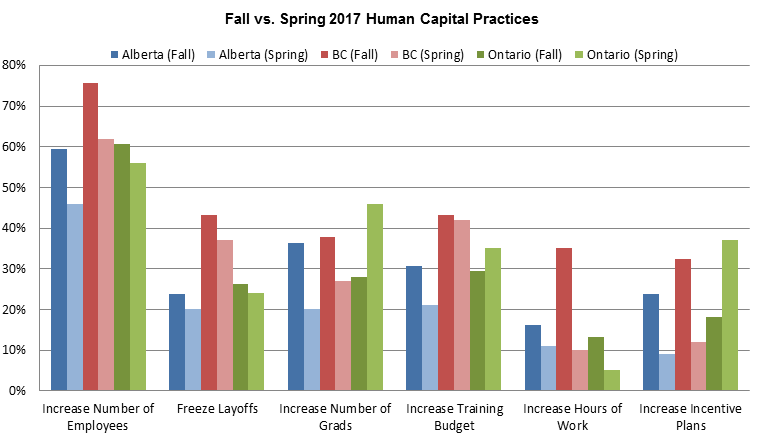 Helping to highlight the positive outlook of Alberta's economy for 2018 are the Human Capital Practices figures summarized in the graph above.

Nearly 15% more Albertan organizations will be hiring in 2018, bringing the total to well over 50% of total participants.


Other positive figures such as increased hiring of graduates, increased training budgets, and increased incentive programs all point towards a strong, rebounding Alberta economy.


Similar trends can also be seen in the numbers for British Columbia & Ontario.
Over 75% of participants reporting from B.C. will be looking to expand their workforce in 2018, while 60% of organizations in Ontario will be doing the same.


Large increases in hours of work, and improvements made to incentive plans will help attract and retain key talent for these B.C organizations.
Human Capital Cost Management Strategies
A key function of this survey is not only to report on what organization's expect of the economy, but how they are dealing with these expectations in terms of their human capital. During the past few years we have seen a significant uptick in the use of cost saving practices by organizations in order to balance their books while maintaining bench strength. These practices varied in both size and severity throughout Canada and have left many individuals with reduced hours, wage freezes, or layoffs. Although we are beginning to see a reduction in policies such as these, many organizations are still employing cost saving strategies that impact the work force. These strategies are highlighted in the graph below.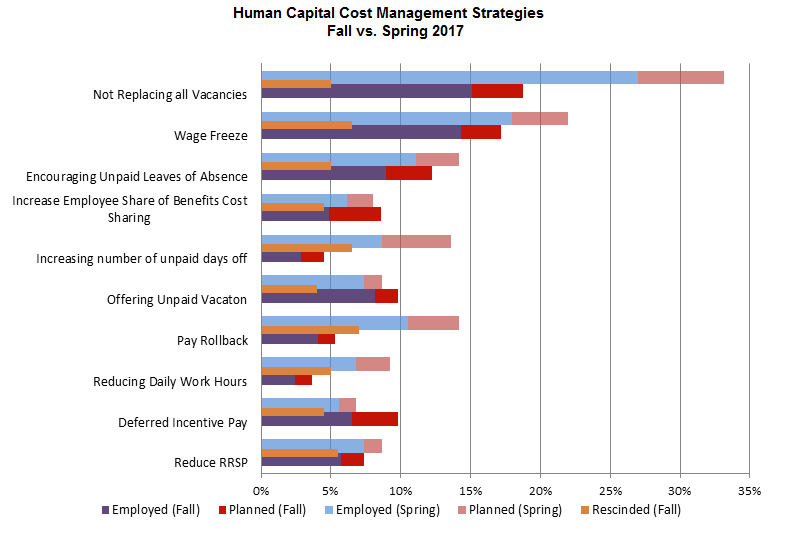 Many more participants are replacing current vacancies, rolling back wage freezes, and increasing the number of hours worked than were doing so during the spring of 2017.

More than 75% of participants expect to replace future vacancies.


Less than 20% of organizations have (or plan on) implementing wage freezes.


Other cost saving strategies such as increased benefit cost sharing, increase unpaid vacation, and pay rollbacks are still being used, however, at a much lesser rate than previously reported.


Averaging at 5% across the board, companies seem to be rolling back cost cutting measures with expectations of growth in 2018.


We believe that these are all positive signs for the labor market, and the economy as a whole for 2018.
For more detailed insights and in-depth data, please see our annual Canadian Salary Surveys.